Travel Information
Cyprus is served by two International Airports; Larnaca International Airport, (LCA) and Paphos International Airport, (PFO). More than 50 International Airlines connect Cyprus to the whole world; for more details regarding flights to/from Cyprus, please visit the official website of both airports at www.hermesairports.com. Furthermore, domestic communication between both airports and all the major cities on the island is very quick and easy via an extensive highway system.

Book your flights to "Euromicro DSD/SEAA Conference 2016" online at www.austrian.com and save 15% on all applicable fares! To do so, simply enter the following code in the eVoucher field on the Austrian homepage booking engine: Book your flights here!
Code: DSD16
Conditions:
Booking period: now until September 2nd, 2016
Valid for flights to Larnaca via Vienna and return as of August 24th, 2016 until September 9th, 2016 (final date for return flight) on OS operated flights.
VISA REQUIREMENTS
As Cyprus is a candidate country bound to join the Schengen Area, Residents of non-EU countries who hold valid multiple-entry Schengen visas must first pass through a full Schengen member territory in order to utilize the visa in Cyprus. The Schengen Visa holder is allowed to travel to Cyprus directly from a Schengen member country without applying for a National Cypriot visa and stay in the Republic of Cyprus for the duration of their Schengen visa.
The above arrangements do not apply for persons holding a Turkish or Azerbaijani passport. If you are affected, please visit the Cyprus Ministry of Foreign Affairs website on how to apply for a Cyprus Visa.
For further information, please check the European Commission website regarding Schengen Visas.
Schengen States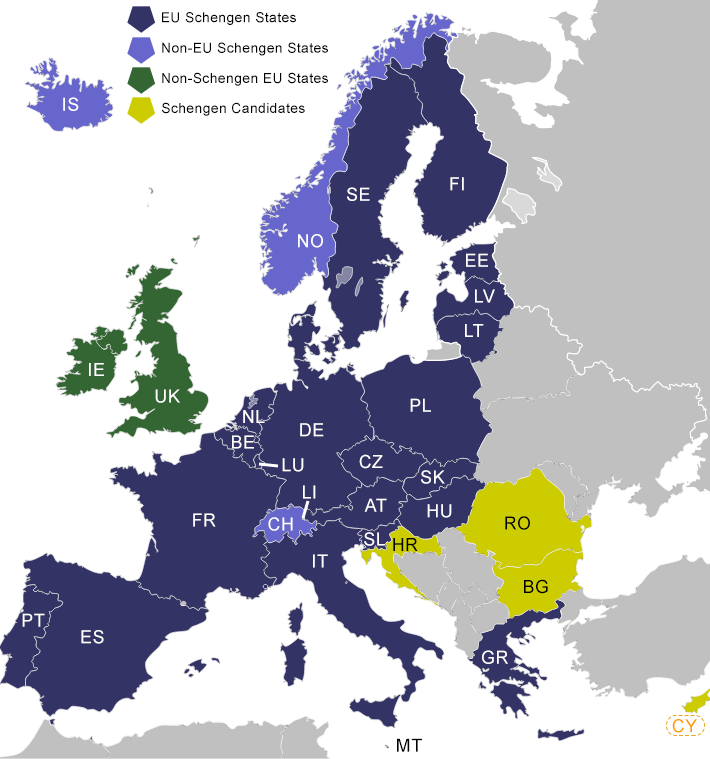 Schengen Area as of 1/7/2013
Where Visas are being issued:
Visas will be issued by all the Diplomatic Missions (Embassies and General Consulates) of the Republic of Cyprus, and by all the Honorary Consulates of the Republic of Cyprus abroad in their respective countries. Additionally visas can also be issued by the British High Commissions / Embassies in the following countries: ARGENTINE REPUBLIC, BAHREIN, HONG KONG, JAPAN, JORDAN, KAZAKHSTAN, KUWAIT, OMAN, SWITZERLAND, SUDAN, UNITED ARAB EMIRATES (ABU DHABI, DUBAI) and UZBEKISTAN.
Please click here to download the MFA Application for Visa form.
The above information is based on information provided by the Ministry of Foreign Affairs.
AIRPORTS
Cyprus has two (2) airports:
The Larnaca International Airport, which is located about 5km (3 miles) from Larnaca town centre and 142km (88 miles) from Paphos.
For more information, maps and flight schedules please visit the Cyprus Airports Official Website (Larnaca)


The Paphos International Airport, which is located about 15km (9 miles) from Paphos town centre.
For more information, maps and flight schedules please visit the Cyprus Airports Official Website (Paphos)


GROUND TRANSPORT

Airport Transfers
Please note that participants have the following options for their transfers from /to the airport:
Airport Taxis. Get an airport taxi on arrival to the airport. Service is quite good, but at times one may have to wait and prices may vary depending on the time of arrival.


Car rentals. Participants may opt to hire a car during their stay, and thus use it for their airport transfers.


Public Transportation


A list of all buses around Cyprus including night buses, rural buses and intercity buses can be found on "Cyprus by Bus" website at www.cyprusbybus.com. The buses are separated by city while route details, timetables and maps are available for each route.

Please visit the official website of "EMEL Buses" www.limassolbuses.com to view all routes within Limassol centre and suburbs.

Larnaca Airport to Venue
Step 1: From Larnaca Airport use the Limassol Airport Express coaches in order to reach Limassol city (Last bus stop "Saint George Havouzas" - shuttle bus stop). Please visit their webpage for more information and timetable: www.airportshuttlebus.eu.
Step 2: Use public bus to reach the hotel venue. Please visit their webpage at: www.limassolbuses.com for routes and timetables.

Paphos Airport to Venue
Option 1:
Step 1: Once you arrive at Paphos Airport, you can use the public bus route 613 to reach Pervola-Karavela Station. Please visit 'OSYPA Buses' website at www.pafosbuses.com to find map and timetable.
Step 2: From Pervola-Karavela Station use the Public Bus Company 'Intercity Buses': www.intercity-buses.com to get to Limassol City (New Port Station).
Step 3: At the New Port Station in Limassol you can hop on 'EMEL Buses' to reach your hotel. Please visit 'EMEL Buses' routes and timetable at: www.limassolbuses.com. Alternatively, you can get a taxi to drop you off to your hotel.

Option 2:
Step 1: Once you arrive at Paphos Airport, you can take the direct service to Limassol (Ag. Georgios Havouzas bus stop); handled by Limassol Airport Express coaches. You may visit www.airportshuttlebus.eu to check the timetable that matches your flight.
Step 2: Afterwards, you can hop on 'EMEL Buses' to reach your hotel. Please visit 'EMEL Buses' website at www.limassolbuses.com to find a route to your hotel.

PUBLIC TRANSPORTATION IN LIMASSOL
There are two bus routes connecting Amathus (Conference Hotel Venue area) with the city centre, via the Limassol seafront avenue. Both bus lines circulate from Monday to Sunday, from 06:00 until after midnight, at an average frequency of 15 minutes, depending on each route's departure time. The price for a single route is €1.50 (day bus) and €2.50 (night bus: 23:00 onwards). A daily ticket for unlimited journeys costs €5.
Bus 30 (route: My Mall - Le Medirien Hotel - My Mall). A Bus 30 schedule, ready to download for your perusal can be found here
Bus 33 (route: Le Meridien - Seafront Avenue - Town Centre). A Bus 33 schedule, ready to download for your perusal, can be found at the following address: here
Also, a detailed map of all Limassol Bus routes, ready to download, can be found here
GENERAL INFO
The voltage on the island is 240 Socket outlets are of flat 3 pin-type.
English is the second language and is widely spoken. A greater Knowledge of French and German is increasingly noticeable.
The currency of the Republic is Euro.
Banks in Cyprus open for the, public from 08:30 to 13:30 midday. Certain banks in tourist areas open during the afternoon.
All types of medication are available in well stocked pharmacies all over Cyprus.
Telephone : Cyprus automatic telephone dialing system reaches 206 countries. Telecards can be purchased from Post Offices, kiosks and souvenir shops.
There are two international airports in Cyprus, at Larnaca and Pafos.
The two main ports are in Lemesos and Larnaca.
Around 30 airlines connect Cyprus directly with most European and Middle-East countries, which provide ongoing services to anywhere in the world.
As from May 2004 Cyprus is a full member of the European Community
Public holidays
January 1: New Year's Day
January 6: Epiphany Day
Variable: Green Monday (50 Days before Greek Orthodox Easter)
March 25: Greek National Day
April 1: Greek Cypriot National Day
Variable: Good Friday (Greek Orthodox Church)
Variable: Easter Monday (Greek Orthodox Church)
May 1: Labour Day
Variable: Pentecost-Kataklysmos (Festival of the Flood)
August 15: Assumption
October 1: Cyprus Independence Day
October 28: Greek National Day (Ochi Day)
December 24: Christmas Eve
December 25: Christmas Day
December 26: Boxing Day
Notes: All Public Services, private enterprises, banks and shops are closed on Public Holidays. In resort and coastal areas, however, shops and certain services remain open. Banks are closed on Easter Tuesday but not on Dec. 24.
Medical facilities
The health facilities in Cyprus are of a high standard. The latest technologies and operating techniques are standard practice, with heart bypass surgery and kidney transplantation operations routine in the islands hospitals. The accident and emergency departments of all the hospitals are manned with English-speaking personnel, but it's advisable to seek the assistance of an interpreter for more complex medical matters. Emergency treatment in the Accident and Emergency department, is free to tourists.